Register below for the Gigantic Century, 50, or 20 Mile, Saturday August 1st, beginning and ending at the Gigantic Bicycle Festival grounds.
Ride Start is from the Centennial Fields Park North West entrance. The starting line is open from 6am, with bike tech, day of rider registration, and some morning snacks and hot tea for riders.
Century riders departure time is from 6:30am to 7:30am.
50 mile riders departure time is from 7:30am to 8:30am.
20 mile riders departure time is from 8:30am to 9:30am.
Adult rider registration is $80, and includes a weekend pass to the Gigantic Bicycle Festival. Youth under 12 can register online for $1. Day-of-ride adult rider registration is $100.
Route:
Century and 50 mile riders follow the same route North West until about mile 20, at which point 50 Milers loop back. Century Riders continue North and West to Snohomish, and return to the festival grounds winding through the (gorgeous) Snoqualmie River Valley. 20 mile riders follow a scenic tour of the Snoqualmie Valley, on a fairly flat route winding along forests, rivers, and llama farms.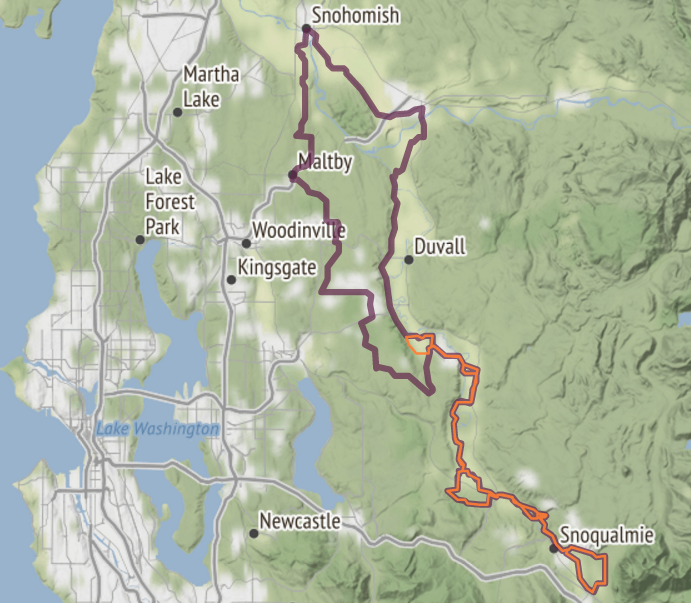 Ride Support:
Supported rest stops are found every 15-20 miles at Redmond, Maltby (The Church at Maltby), Monroe (
Monroe United Methodist Church
), and Carnation (
Jubilee Farms
).
On route mechanical support will be provided. Labor is free, but please be prepared to pay for parts. Support vehicles and bikers will be out along the routes with water, tools, patch kits, snacks, and first aid kits.
Add-Ons
*The 2020 Gigantic Bicycle Festival jersey is $60 for riders
*Adult riders registering before February 1st can pick one of anything in the store for free with an emailed code, including shipping.
*Overnight field camping for riders & festival goers is $10 per adult camper. The camp grounds are hosted by Meadowbrook Farms, a short 100 meter walk from the South East festival gate. The camp grounds open from 5pm Friday and pack up at 5pm Sunday.
Packet Pickup vs. Mail
When registering, select a bike shop near you as a pickup location, or have your packet mailed to you for $6. Packets are available for pickup from July 1st to 14th.
Snail Mail Registration
If you'd like to register by mail, you can download and print a rider registration form here:
Download Rider Registration Form
Required fields have a
*
next to them.